Hi everyone!
I'm having another Movie Break ♥ I love to watch old movies because the clothes are always so gorgeous and lovely and I always like to look at fashions from another decade.
This choice is not completely random though - if you can guess where this story takes place, you'll know what one of my destinations are for that trip I told you about in my last post!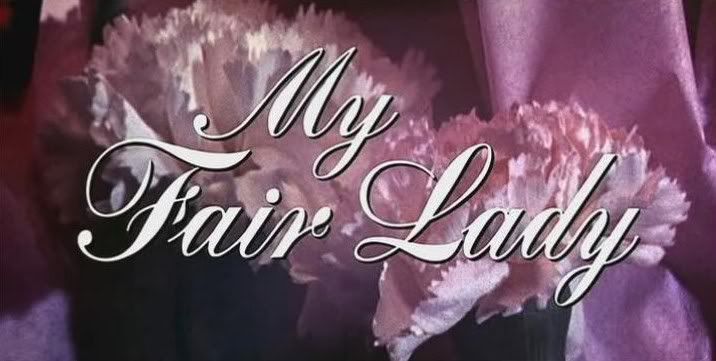 My Fair Lady has always been one of my favourite movies, it was the first Audrey Hepburn film I've watched in my life. My mom used to play it for me when I was a child, and I would love the extravegent clothes, the beautiful sets, and gorgeous, funny Audrey Hepburn.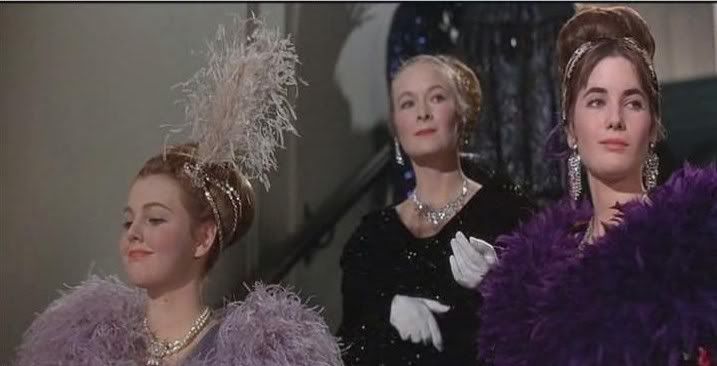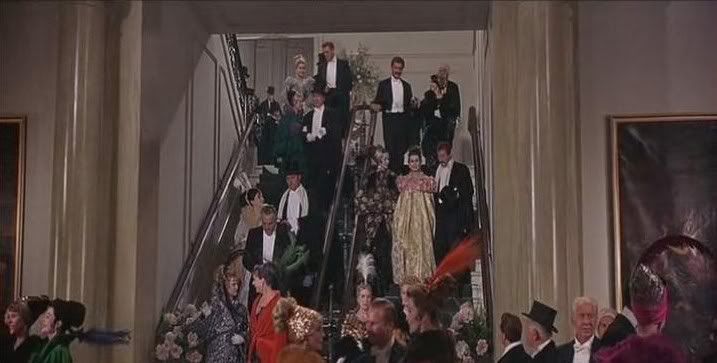 The film starts off with beautiful flowers and gorgeous gowns. All the ladies are dressed perfectly, with piled up hair and rosy cheeks. The rich and the poor are contrasted very dramatically in this film. I find that in this scene, and often in the rest of the film, they use a lot of straight lines on set when they show the upper class, possibly to give off a neat, formal feeling, a feeling of order.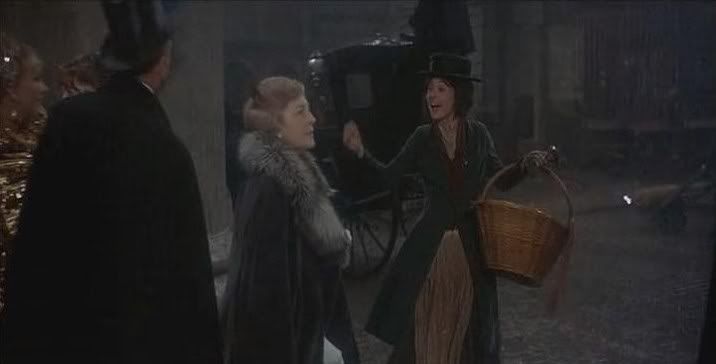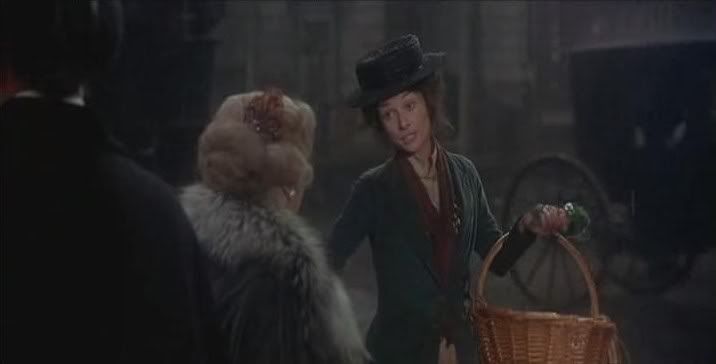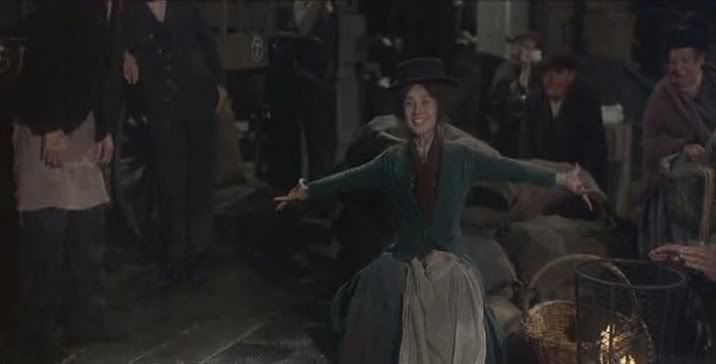 After the rain scene which gets all the upper class people in a flurry, we get our first glimpse of Eliza Doolittle, in her black straw hat, dark green overcoat and yellowed apron. It's a big contrast to the pastel gowned, neat, clean, beautifully dressed ladies in the first scene. She is more free in her manner, running around, slouching onto columns, messy hair and dirty face.
As the movie progresses, Eliza goes from wearing dark heavy fabrics to light flowy fabrics. This is her darkest coloured outfit in the movie, with a dark faded green, plum and black.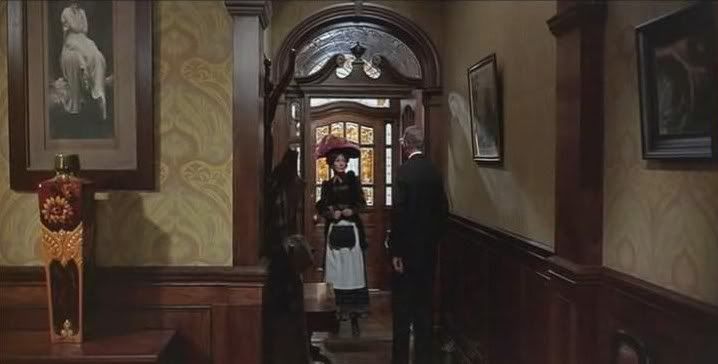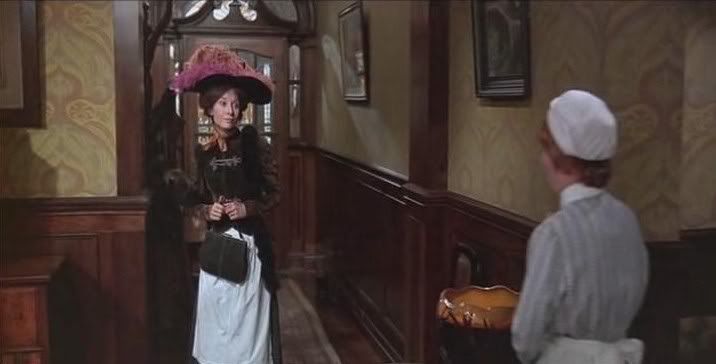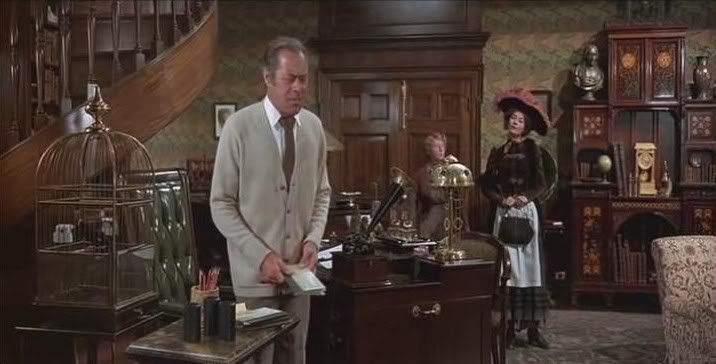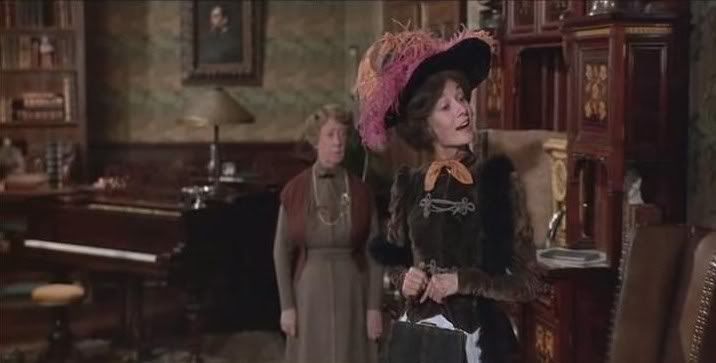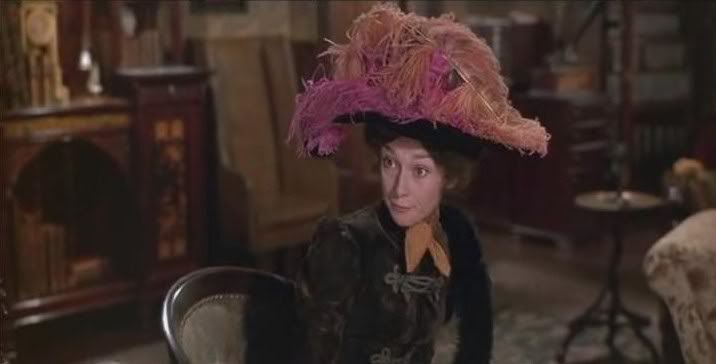 Here is Eliza, with her funny attempt to dress up. I can just imagine her making up her mind about going to find Dr. Higgins, throwing open her closet and putting on all her most expensive clothes, making the extra effort to match her orange neck tie to the orange feathers in her hat. She is still wearing heavy fabrics, like her velvet jacket, and her thin stole pales in comparison to the full, flowy stoles shown in the first picture.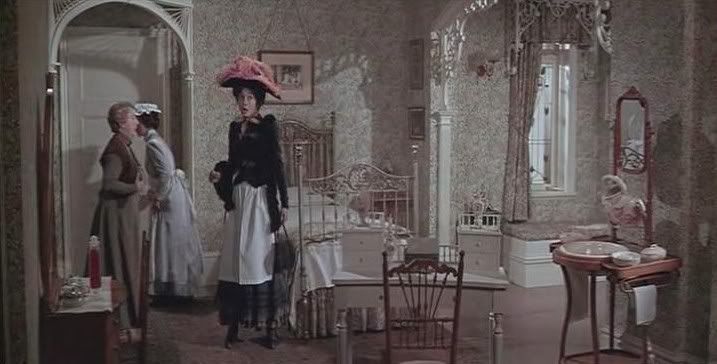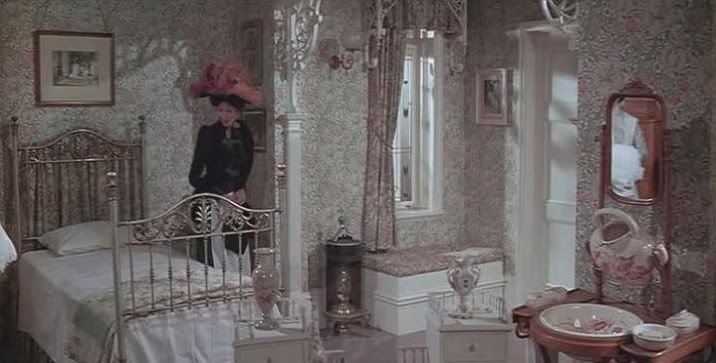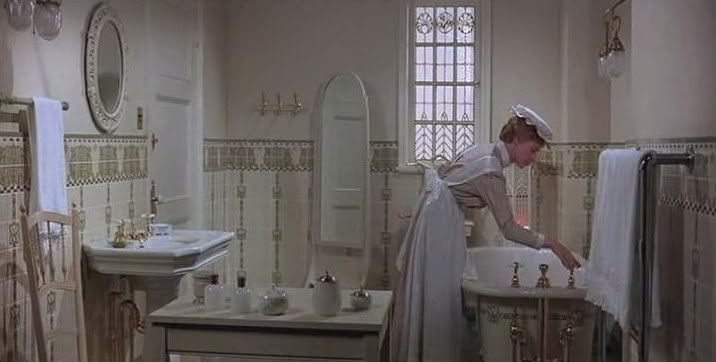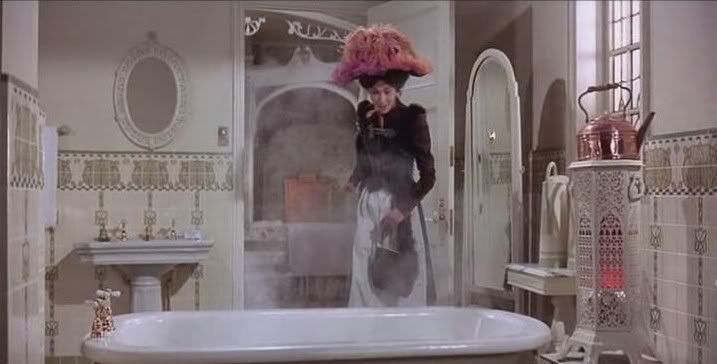 I love Eliza's room (a little too floral but still cute), especially the wash basin and tipping pitcher! Imagine how annoying it must be during that time to take a hot bath, or a bath in general. Knowing how bad I am with hot things, I'd probably burn myself with the hot water from that hot kettle!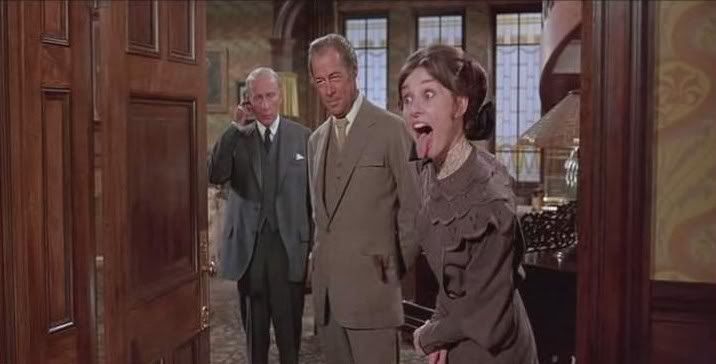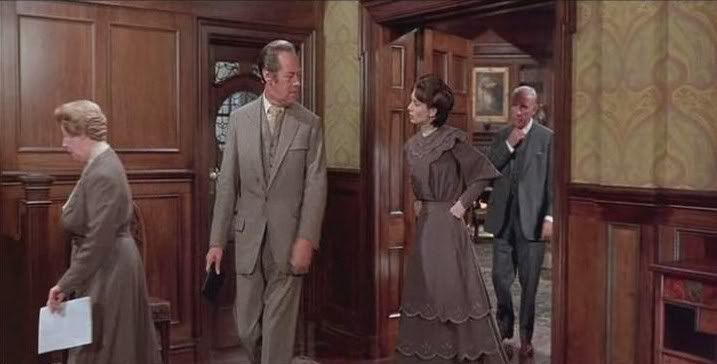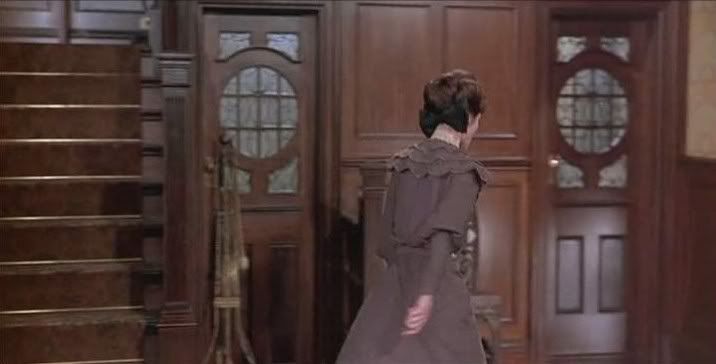 After a hilarious 'bath attack', we see a clean and nicely dressed Eliza, with a side-swirl hairstyle that was popular in the Edwardian era. Her dress is in a lighter shade of brown, with pretty scalloped details. The huge bow in her hair is too cute!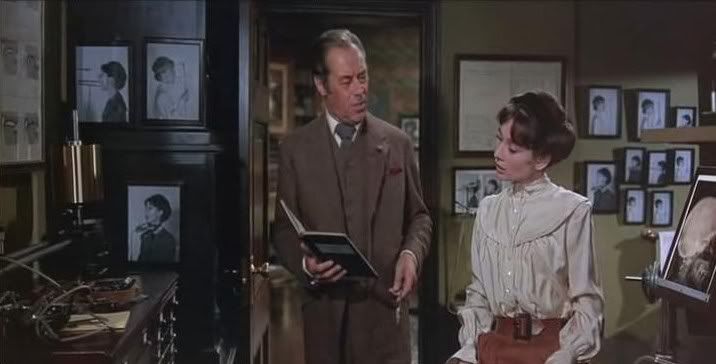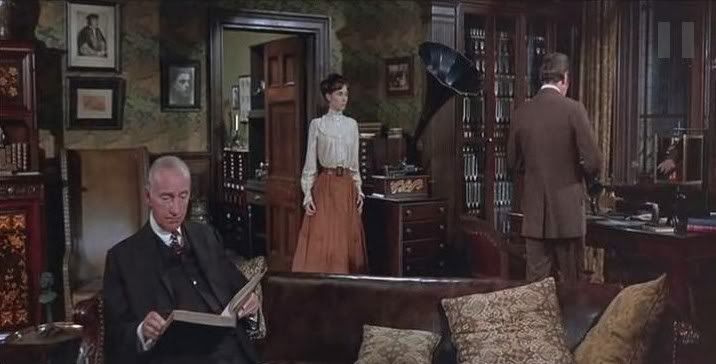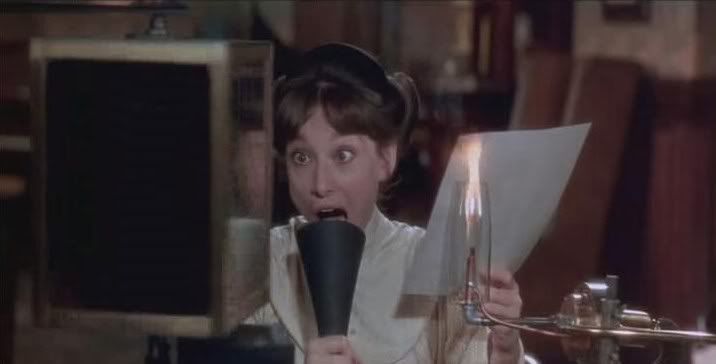 Another pretty outfit, with a lovely belted rust orange skirt. I find that in a lot of scenes, Higgins has small details in his outfit that matches the colours of Eliza's outfits. For example, in this scene, he has a small orange handkerchief in his breast pocket.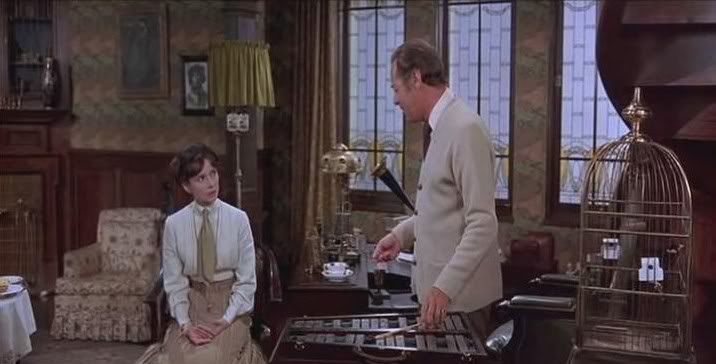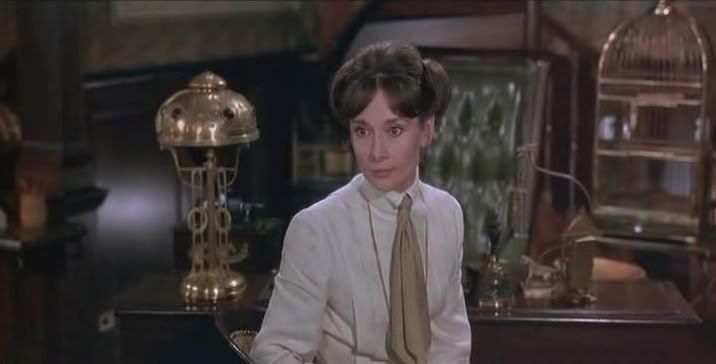 And here they are matching in beige. I think this outfit is very cute, especially with the tie and pendant. Did anyone else feel sorry for her when Higgins fed the last strawberry tart to the bird instead of Eliza?!? I really felt for her at that moment :(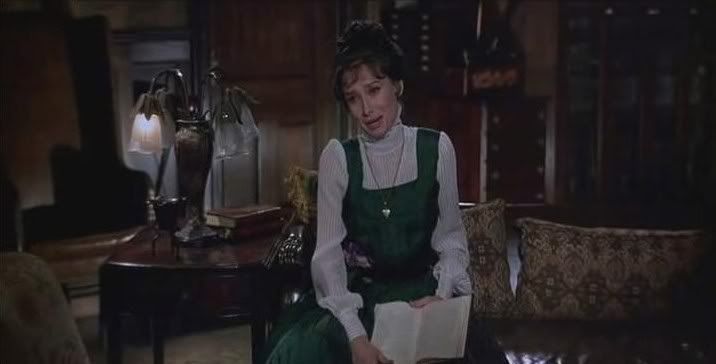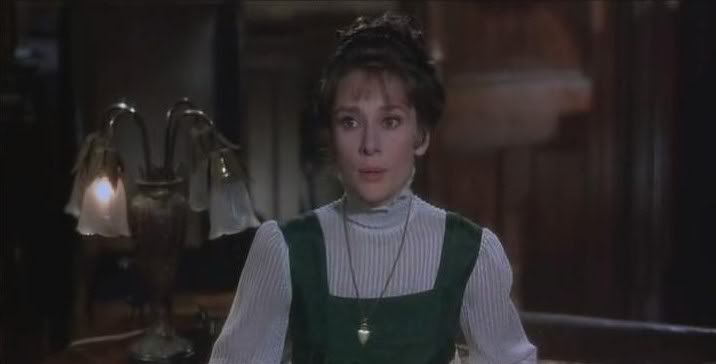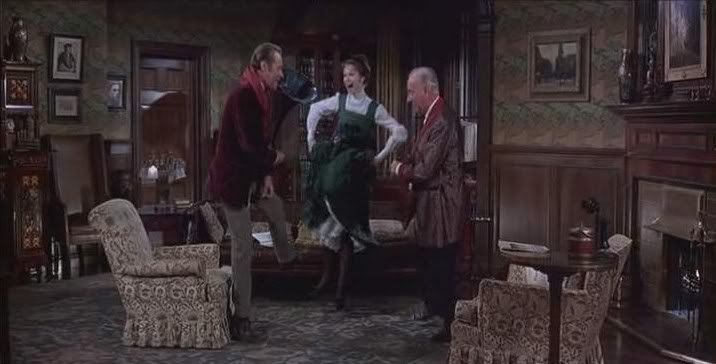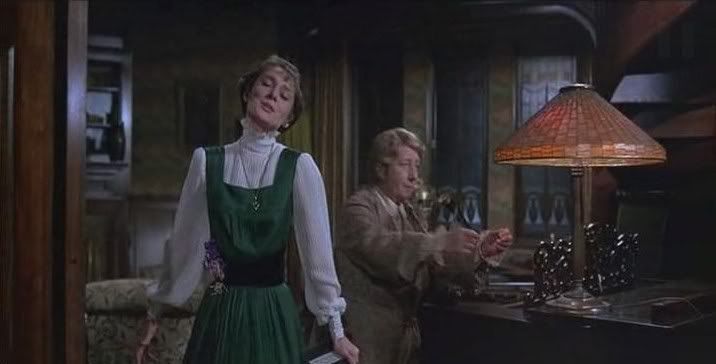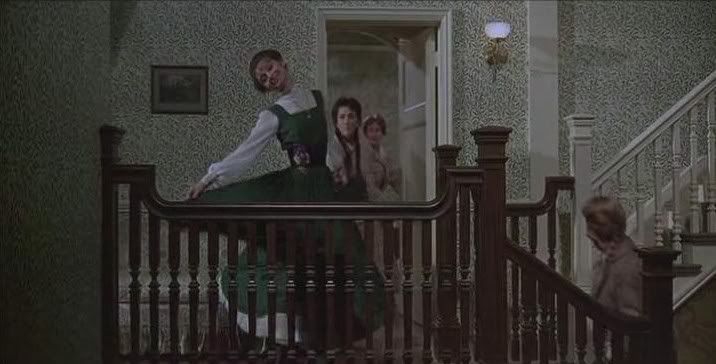 Here is Eliza in her big 'Eureka!!' moment. Even though she is dressed in a dark colour, it is a flowy emerald green dress, lightened by a white pinstripe blouse, and a small bouquet of violets tucked into her belt.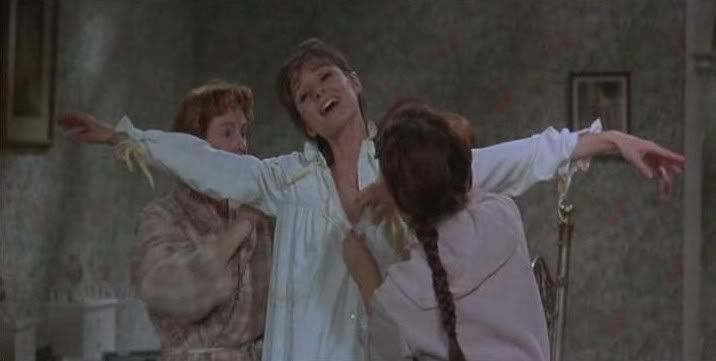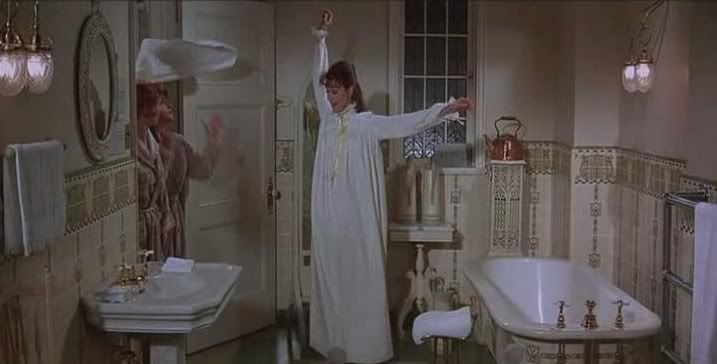 I think this is the cutest nightgown ever, it has cream yellow ribbons!! Look how she blends into her surroundings now, such a big difference from the dark brown velvet jacket and gawdy black hat she was wearing when she first moved in.
I hope you've enjoyed these pictures so far! I didn't want to make the post too long so I have split it up into 2 parts. Coming up, Higgins is going to try Eliza out at the Ascot races!
Weird mascara brush hat lady...
♥