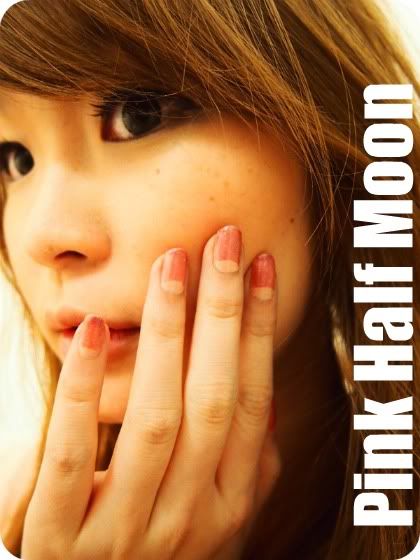 Under: Chanel 463 Rose Satin
Middle: OPI Chapel of Love
Over: Anna Sui 244
Half moon manicures are deliciously vintage, first appearing in the 1920s. It has already made a comeback in the 1940s so it's no surprise that it's making yet another comeback this year! And it's no surprise that the half moon manicure took off - beauty and make up has always revolved around the look of health and well-being. Traditional Chinese medicine has always taught that nails, and especially half moons on the nails, were a sign of good blood circulation and overall health.
I did this look using the new
technique with reinforcements
. It was easier than I expected and a lot of fun! Just stick the reinforcements on the area you want to keep clean, and paint the second colour over it. This look is best on longer, oval shaped nails, as the half moon will take away from the length of the nail. Next time I think I should use a base colour not so close to my skin tone... from far away I look like I have wierd short rainbow shaped nails.
I originally just wanted the OPI (hot pink) on top, but it was way too sheer so I had to put on a thin layer of the Anna Sui (dark pastel purple with pink and iridescent glitters) to create a bigger contrast.
It's such a girl thing to say "oh no I broke a nail :((((((((", isn't it?? But I find it really annoying when you spent time doing your nails and then ONE nail gets chipped or breaks and ruins the whole look. I have a bad habit of using my nails for things and at the end of every week my nails are a mess. Good thing there is a Sephora nearby where I can get my nail polish fix ♥
Love these looks! Of course, who can resist a little Chanel, even on their nails?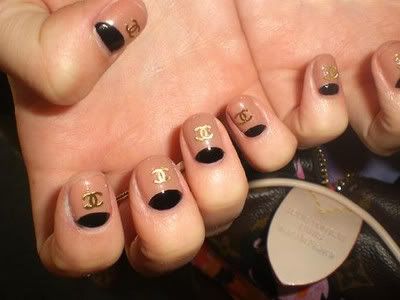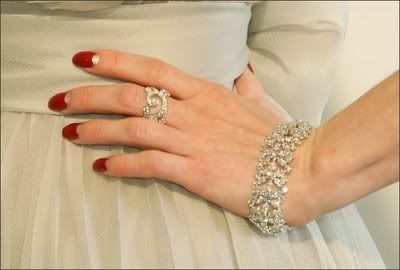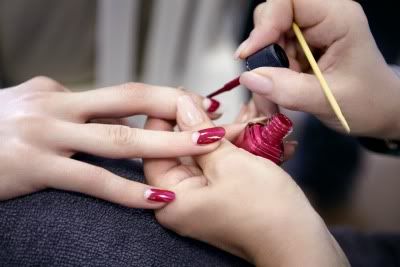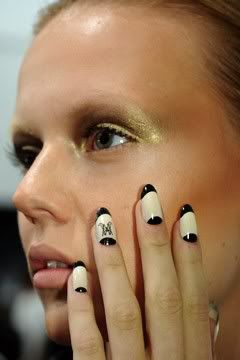 ♥